While wondering through an antique book fair in Florence in 2005, Jane Fortune, an American philanthropist and patron of the arts, found a book about Plautilla Nelli, the first known female Renaissance painter. Fortune sought out Nelli's work, Lamentations With Saints, at the San Marco Museum and was shocked to find the painting caked with dirt and having lost its' luster.
She decided at that moment to pay for its' restoration.
She investigated and discovered there were myriad works by female artists throughout Florence whose works were not celebrated, were hidden away in basements and other storage areas, and were neglected and needed restoration.
Why had these works been overlooked and mistreated for centuries?
At the age of 63 she decided to do something about the injustice. She founded a non-profit foundation called Advancing Women Artists (AWA) to find and salvage art created by women between the 16th and 20th centuries. Her resurrection of these works, many of them Renaissance treasures lost to history and hidden away in Tuscan churches and attics for centuries, earned her, in the Italian press, the nickname "Indiana Jane." Florence's mayor Dario Nardella made her an honorary citizen and declared her "one of our citizens, one of us."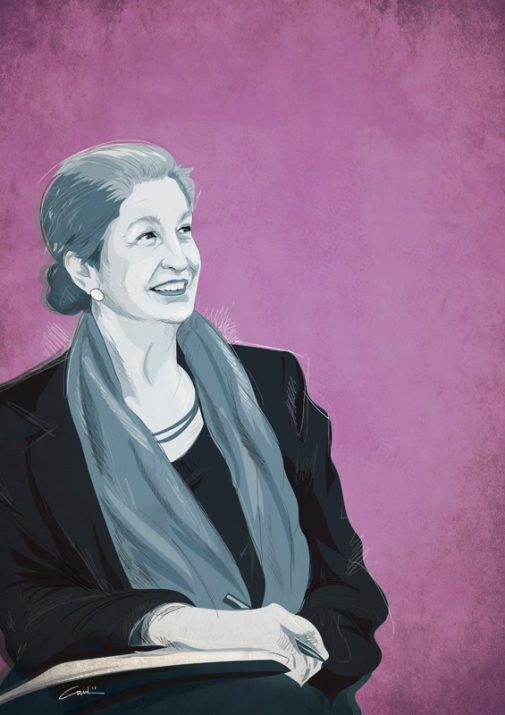 Illustration of Jane Fortune by Leo Cardini
The foundation restored 61 paintings and sculptures by women in Italy. One of the rediscovered works, Artemisia Gentileschi's "David and Bathsheba," had languished in storage at the Palazzo Pitti, in Florence for 363 years. Restored works have since been displayed at the Uffizi Galleries and other museums in Italy.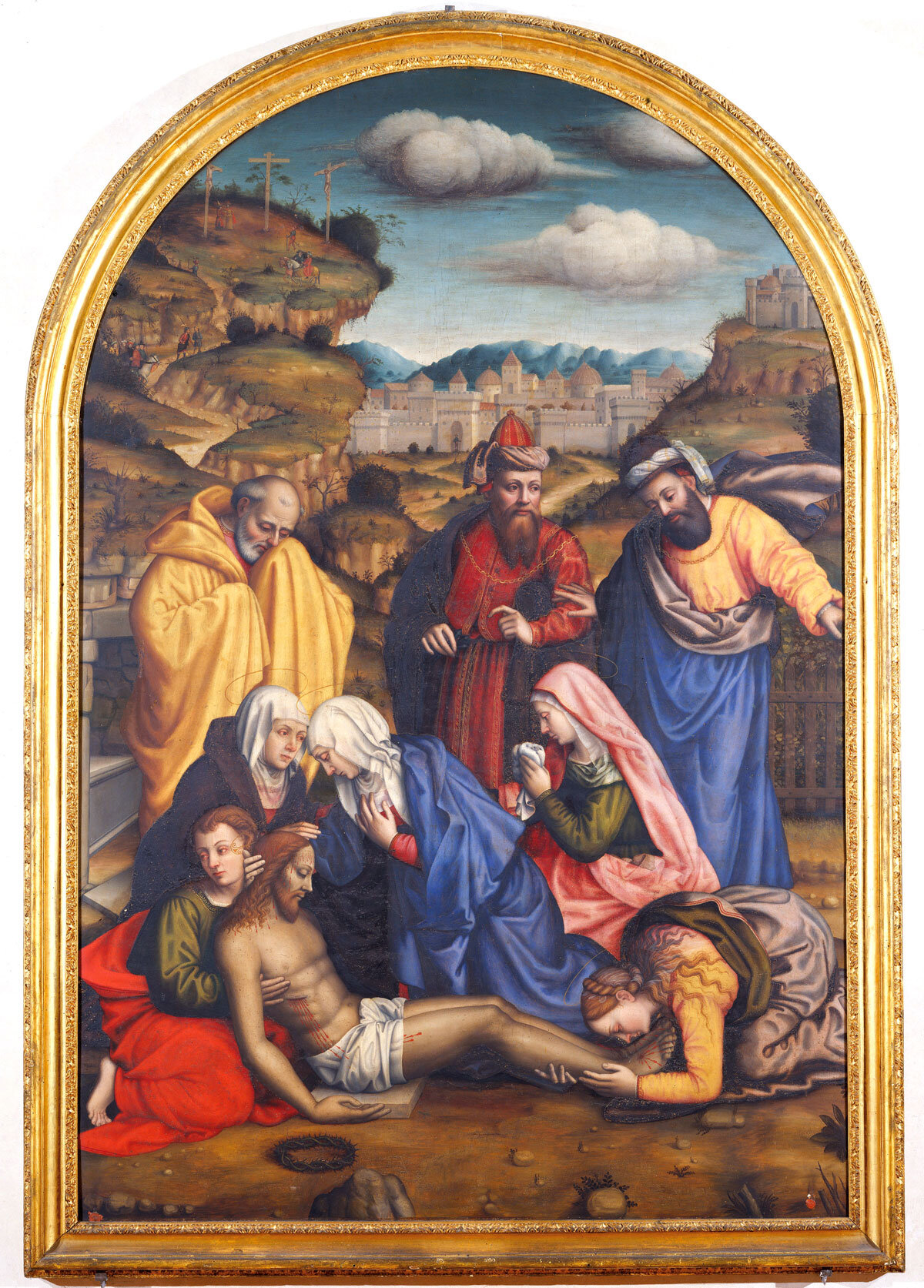 Lamentation with Saints, by Plautilla Nelli. The AWA's first restoration completed in 2006
It now hangs in the San Marco Museum in Florence
Among her goals for AWA was eventually to find its own space in Florence to display restored works. The foundation began restoring paintings only if a museum pledges to exhibit them.
"Why fund a restoration if the piece returns to storage, never to be seen again?"

Ms. Fortune asked.
That is why it became an ambition of the AWA to have their own exhibition space in Florence.
The AWA closed its doors in June of 2021, but the work continues through the Jane Fortune Research Program she created called the Women Artists in the Age of the Medici Project to continue the shining a light on Florences' renaissance women artists.
Discovering Nelli's art changed Fortune forever. She recalled being a shy young woman afraid to answer questions because she might sound foolish. But that changed.
"In order to champion these forgotten women artists, I had to speak up," she said. "In the process of being the voice for these invisible women artists, I also found my own voice."
In the case of Nelli, Fortune told an interviewer in 2015, "Almost 430 years after her life, I would give her the voice she never fully had."
"For centuries, these women have not been talked about… There is a whole gap in history that's missing. And how that plays into the history of Florence, and how it became what it is—if you read all the books then you'll believe it was only men who did it."
She wrote several books including "Invisible Women: Forgotten Artists of Florence," which was made into a an Emmy award winning Public Broadcasting Service (PBS) television documentary.
Fortune passed away from ovarian cancer in 2018. In her final months, she was working on a project called "A Space of Their Own" with AWA, the Eskenazi Museum of Art and Indiana University to create an international database on women artists from the 1500s to the 1800s.
At the time of her death no dedicated space had been created for female Florentine artists, however, shortly after her death a new exhibition called Women Artists. Florence 1900-1950 opened at the Spazio Mostre Fondazione in Florence.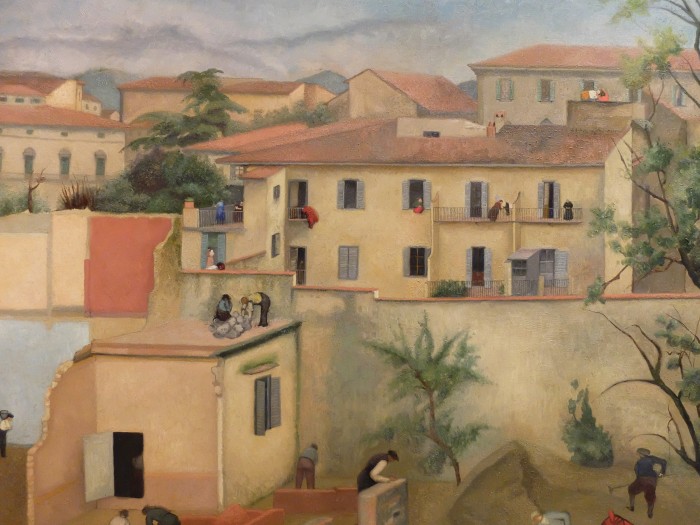 View of Ponte Rosso by Fillide Levasti Giorgio
Fortune wrote in the introduction to exhibition's catalogue,
"We must move forward in our efforts to bring the art of women from storage into the public gaze, shinning a light on the trials and the whimsy of the artists that touch our hearts as well as our minds. Will the art works always reveal mastery? No. What they will reveal is the need to transform and record the human experience, for it is through this yearning we will reach the end and the beginning of our own creative quest."
Learn more about the woman behind the art: Jane Fortune
Advancing Women Artists – http://advancingwomenartists.org/home-1
The Medici Archive Project https://www.medici.org/
Articles
Jane Fortune's articles in the English Italian periodical The Florentine
https://www.theflorentine.net/author/janefortune/
Documentary
Emmy winning Invisible Women: Forgotten Artists of Florence: http://advancingwomenartists.org/invisible-women
Books
The Restoration of Lamentation with Saints. Jane Fortune, Rossella Lari, and Magnolia Scudieri. 2006. Arte Media Studio, Florence, Italy (Documentary – DVD)
To Florence, Con Amore: 77 Ways to Love the City. Jane Fortune. 2007. Florence: The Florentine Press.
David and Bathsheba, The Restoration by Linda Falcone, Jane Fortune and Serena Padovani. 2008. Art Media Studio, Florence, Italy (Documentary – DVD)
Invisible Women: Forgotten Artists of Florence. Jane Fortune. 2009. Florence, Italy: The Florentine Press.
Continuing the Commitment: A Tribute to Suor Plautilla Nelli by Jane Fortune in Orate Pro Pictora: Pray for the Paintress. 2009. The Florentine Press, Florence, Italy.
To Florence, Con Amore: 90 Ways to Love the City. Jane Fortune. 2010. Florence, Italy: The Florentine Press.
Rediscovering Florence's Native-born Female Artists in Irene Parenti Duclos: A Work Restored—An Artist Revealed. Linda Falcone, ed. 2011. Florence: The Florentine Press.
Art by Women in Florence: A Guide through Five Hundred Years. Jane Fortune and Linda Falcone, 2012. Florence: The Florentine Press.
Félicie de Fauveau: Artistic Passion and Political Exile. Jane Fortune. 2013. In Santa Croce in Pink: Untold Stories of Women and their Monuments, Linda Falcone (Ed.) Florence: Artecelata, pgs. 55–58.