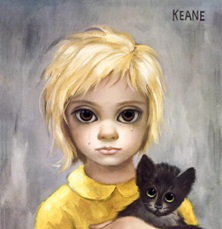 Have you seen the paintings of children with big eyes painted by the artist William Keane?
In the 1950s the portraits of subjects with oversized doe-eyes became hugely popular.
In 1957 Walter began exhibiting the "big eyes" paintings. Despite negative reviews from art critics and not being taken seriously as real contemporary art, the images of children of the children with panic or was it wonderment in their eyes seemed to resonate with viewers.
In February the work was shown on a wall of the Bank of America in Sausalito, California. He took nine paintings to New Orleans, which he claimed to have sold during Mardi Gras. That summer Walter arranged for a showing at the Washington Square Park Outdoor Art show in New York City. Displaying his talent for promotion, during that trip he arranged for a showing in August at the Sheraton Hotel in Chicago and another in a small East Side gallery for the same month.
And the paintings sold. By the millions. The paintings were relatively inexpensive, and Americans rushed to cash registers to buy them. The artist had the brilliant idea to commoditize their work further by producing print reproductions and putting the images on everything from posters, tote bags, plates, etc.
Walter Keane was the most celebrated artist in America.
In the 1960s, Keane became one of the most popular and commercially successful artists of the time. Andy Warhol said "I think what Keane has done is just terrific. It has to be good. If it were bad, so many people wouldn't like it."
Celebrities began commissioning portraits including Natalie Wood, Jerry Lewis, and Joan Crawford.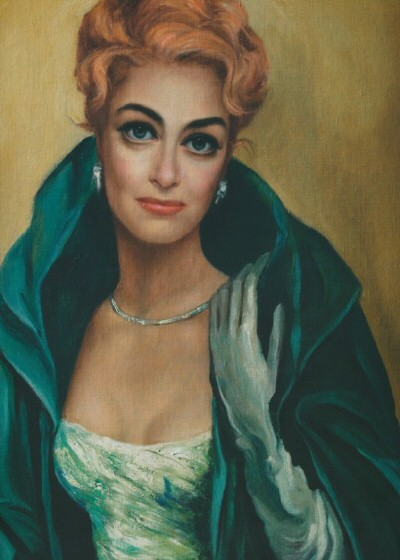 Joan Crawford portrait by Keane
The only problem was that he wasn't the creator of those paintings – his wife Margaret Keane was!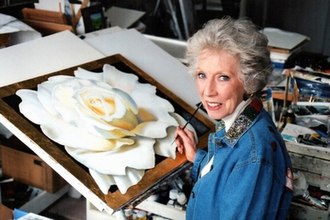 September 15, 1927 – June 26, 2022
Walter had been taking the credit for Margaret's work for years. She discovered this but said nothing and sometimes even said the works were made by Walter. Later she said she didn't say anything because,
"I was afraid of him because he [threatened] to have me done in if I said anything."
The truth came out in 1970, years after they divorced, when Margaret told a radio show that she was the real artist. The San Francisco Examiner promptly arranged a stunt to reveal the truth. There would be a paint off in Union Square. Margaret was ready and various media attended as well. Walter did not show.
He continued to claim the paintings were his creations. He told USA Today in 1984 that Margaret was only claiming the painting because she thought he was dead.
Margaret and Walter to each create a big-eyed painting in the courtroom. Walter refused because he had a "sore shoulder". Margaret got to work immediately and completed her painting in 53 minutes. The jury awarded her $4 million in damages.
After the verdict, Margaret Keane said "I really feel that justice has triumphed. It's been worth it, even if I don't see any of those four million dollars.".
Keane's distinctive portrayal of eyes in her works may be attributed to a childhood illness when her eardrum was permanently damaged during a mastoid operation when she was two-years old. She couldn't hear properly and learned to watch the eyes of people talking to her so she understood.
She started drawing at the age of 10. her first oil painting of two little girls, one crying and one laughing, when she was 10 years old and gave the painting to her grandmother.
Her works, while married to Walter, depicted mostly sad-looking children in dark settings. After leaving Walker she moved to Hawaii and her work took on a happier, brighter style.
"The eyes I draw on my children are an expression of my deepest feelings. Eyes are windows of the soul. These are the paintings of children in paradise. They are what I think the world is going to look like when God's will is done."
Learn more about the woman behind the art: Margaret Keane
Film
Big Eyes, 2014
Articles
"The lady behind those Keane-eyed kids". Life Magazine. November 20, 1970. Vol. 69, No. 21 – p. 56. Retrieved December 9, 2010.
Website