Jo wrote in her diary, aged 17:
"I would think it dreadful to have to say at the end of my life, 'I've actually lived for nothing, I have achieved nothing great or noble.'"
She need not have worried. She is the woman who made van Gogh famous!
When Vincent van Gogh died in 1890 no one had heard of him or valued his paintings.
It was his sister-in-law Johanna van Gogh-Bonger who brought him to prominence following the death of her husband Theo, Vincent's brother – who had financially and emotionally supported Vincent for years.
She was left alone to raise her infant son in a Paris apartment filled with valueless works of her brother-in-law. She also had all the correspondence between the two brothers.
She devoted much of her life to promoting the work of Vincent and Theo despite having no art knowledge. She used the letters alongside the works to highlight Vincent's vision so that people would better understand his art.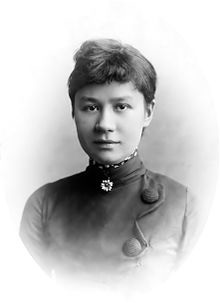 Johanna van Gogh-Bonger (October 1862 – 2 September 1925)
As expected, she was dismissed by the male- dominated-art world as, 'a charming little woman who gushes fanatically on a subject she knows nothing about.' She persisted, and successfully portrayed Vincent to art critics and the public as a suffering artistic genius both in painting and in literature through his letters. And the critic who so easily dismissed her? He eventually designed the cover of the catalogue for a major exhibition of Vincent's works!
1914 she published a first volume of the Letters to Theo. Publication of the letters helped spread the compelling mystique of Vincent van Gogh, the intense and dedicated painter who suffered for his art and died young.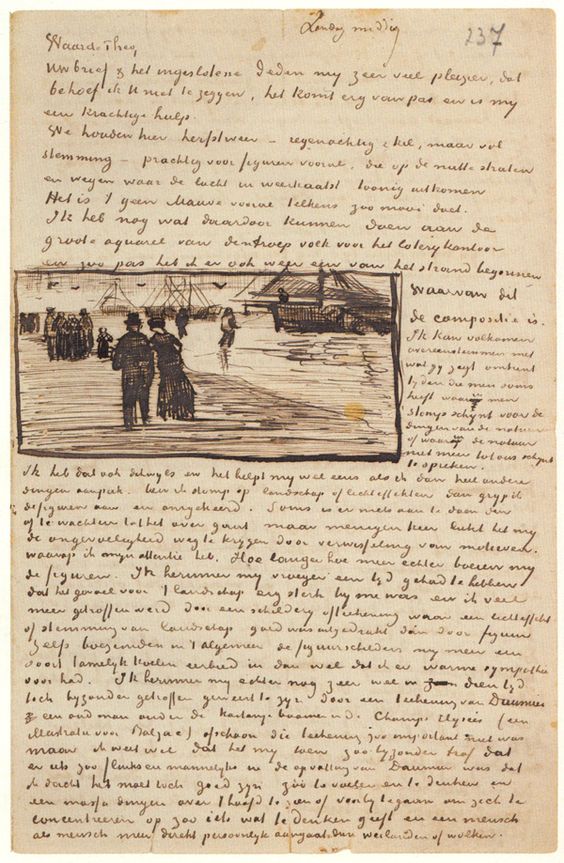 Letter from Vincent van Gogh
She moved to New York City in 1915 to win over America. She translated Vincent and Theo's letters into English. The mystique surrounding Vincent caught favorable attention for Vincent's work leading to a show on Fifth Avenue!
In 1922, the Detroit Institute of Arts became the first public museum in the United States to buy a painting by Vincent van Gogh: the 1887 Self-Portrait, cost the museum $4,200, per the Art Newspaper's Martin Bailey.
1887 Self-Portrait, by Vincent van Gogh
She passed away in the Netherland on September 2, 1925. Her voluminous collection of Van Gogh works and letters were bequeathed to her son Vincent Willem. Her strategy of retaining his best works and controlled selling of others meant that a significant collection remains in family hands.
She was also involved in the feminist movement and wrote book reviews for feminist publications.
She was a founding member of a women's socialist movement, the Amsterdam Social-Democratic Women's Propaganda Club, "which set out to improve working-class education and women's working conditions."
If not for Johanna van Gogh-Bogner no one would know Vincent van Gogh!
Learn more about this Woman Behind the Art: Jo van Gogh-Bonger:
Documentaries available on YouTube:
The short The Woman who Made Van Gogh Famous
A longer Documentary, How Van Gogh's Sister-in-Law Made Him a Renowned Painter.
Diaries:
Her diaries can be read at Van Gogh Museum's website and library https://www.bongerdiaries.org/dagboek_jo_1
Biography:
Alles voor Vincent (All for Vincent) by Hans Luijten, 2019 in Dutch
Novels:
Johanna. A Novel of the Van Gogh Family (1995) by Claire Cooperstein,
The Secret Life of Sunflowers by Marta Molnar
La viuda de los Van Gogh [The widow of the Van Goghs] by Camilo Sánchez
Plays:
A one-woman show by actress Muriel Nussbaum, Van Gogh and Jo was performed at Fairfield University in 2005.
Mrs. Van Gogh, a play by Geoff Allen, who previously authored the play Vincent and Theo, was performed in 2012 at the University of Auckland, NZ,
Film:
Jo, the van Goghs' Widow is in production and set to be release in 2023. It is an adaptation in English of Camilo Sánchez's Spanish-language novel.